13 weirdest items sold on the Trail
From vintage frocks, to Insta-worthy homewares, retro tech, kids stuff and more, there's literally something for everyone on the Garage Sale Trail.
Here's just a selection of the weird, wonderful and downright crazy things we've seen on the Trail since 2010. And remember, if you're listing a sale on the Trail this year be sure to keep it clean and legal. You can check out our terms and conditions for items you can and can't sell on the Trail.
HOMEMADE HOVERCRAFT
Every year Tassie is home to some of the kookiest items on the Trail. Rewind to 2015 and you could even pick up a homemade hovercraft.
THE BBQ TOILET
Yup, this thing REALLY EXISTS. It was snatched up, natch.
AN ORIGINAL COSTUME WORN IN OPERA AUSTRALIA'S MADAME BUTTERFLY
The good folks at Opera Australia cleared out their closets back in 2017 with one-off costumes available, all for under $20.
YACHT FROM THE THE FILM THE GREAT GATSBY
If you ever needed persuading that treasure lurks at garage sales, then this is it. The very yacht Leo cavorted on went up for sale on the Trail in 2017 and even made national news.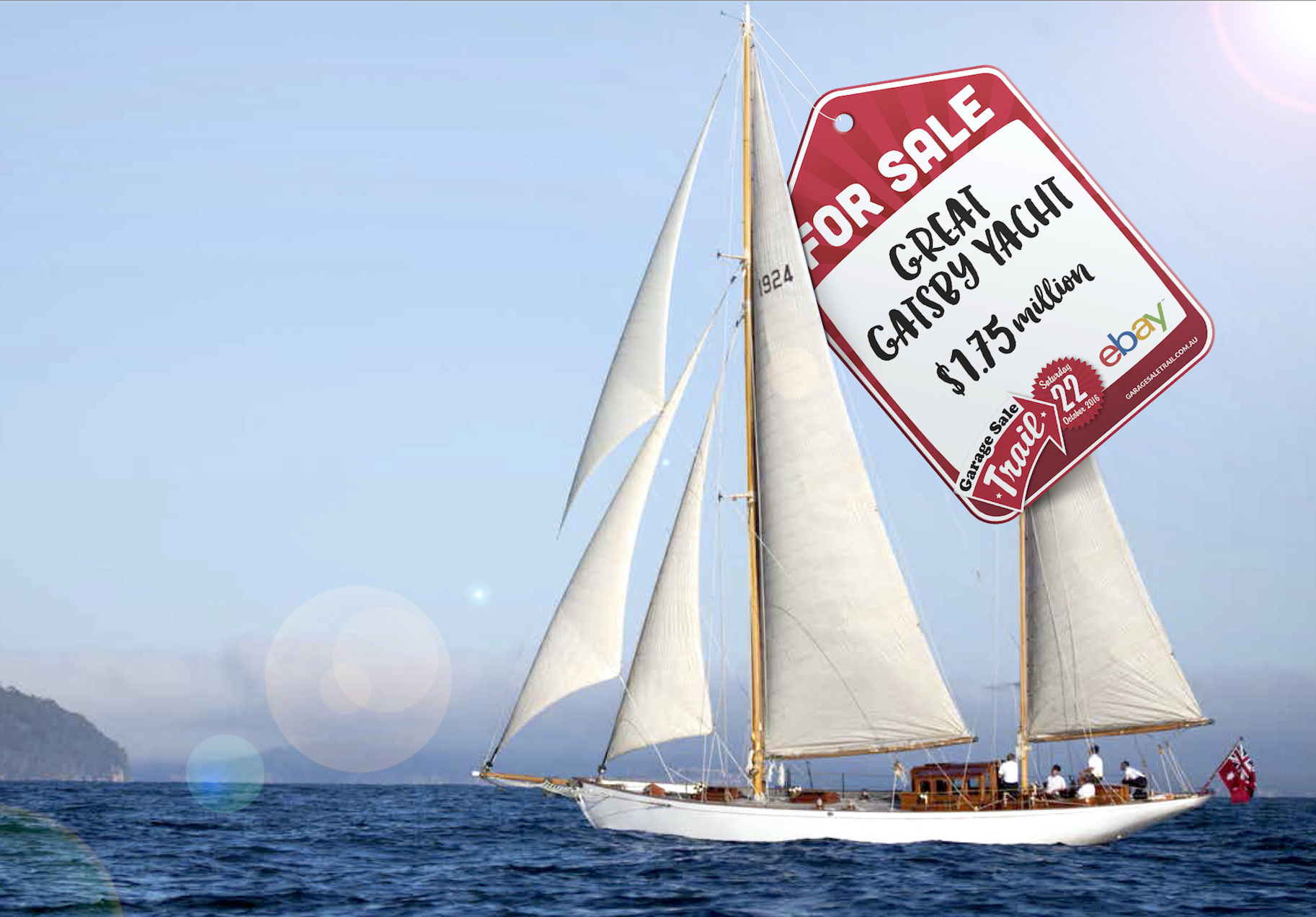 TWO GRANDPAS
These two friendly chaps listed themselves on the Trail for cups of tea and great conversation.
HALF DRUNK BOTTLE OF PORT
Just one of the kooky things found at the first ever Parliament House garage sale.
TREVOR HENDY'S FEROZA COMPLETE WITH FREE PAIR OF BUDGIE SMUGGLERS
You're definitely in good company on the Trail. Even Trev gets involved. And not only could you buy Trevor's car, but it came complete with a pair of his (clean) budgie smugglers.
FIRST EDITION BARBIE
One lucky garage sale shopper unknowingly purchased a first edition Barbie estimated to be worth a tidy $8,000.
GIANT BANANA
Surely this is top of your Trail shopping list? A giant banana was up for sale as part of the Canberra Theatre's garage sale.
BARNYARD FULL OF PIANOS
Welcome to Tassie once more where a piano tuner sold a paddock full of pianos.
FIRST SAME SEX MARRIAGE BILL
We like to a blaze a Trail here so we were pretty stoked to find a copy of the first ever same sex marriage bill for sale.
HANDMADE COFFIN
Still no takers
Garage Sale Trail, Australia's biggest festival of pre-loved stuff, returns on 9-10 & 16-17 November 2024. Join the wait list to get exclusive early bird access.