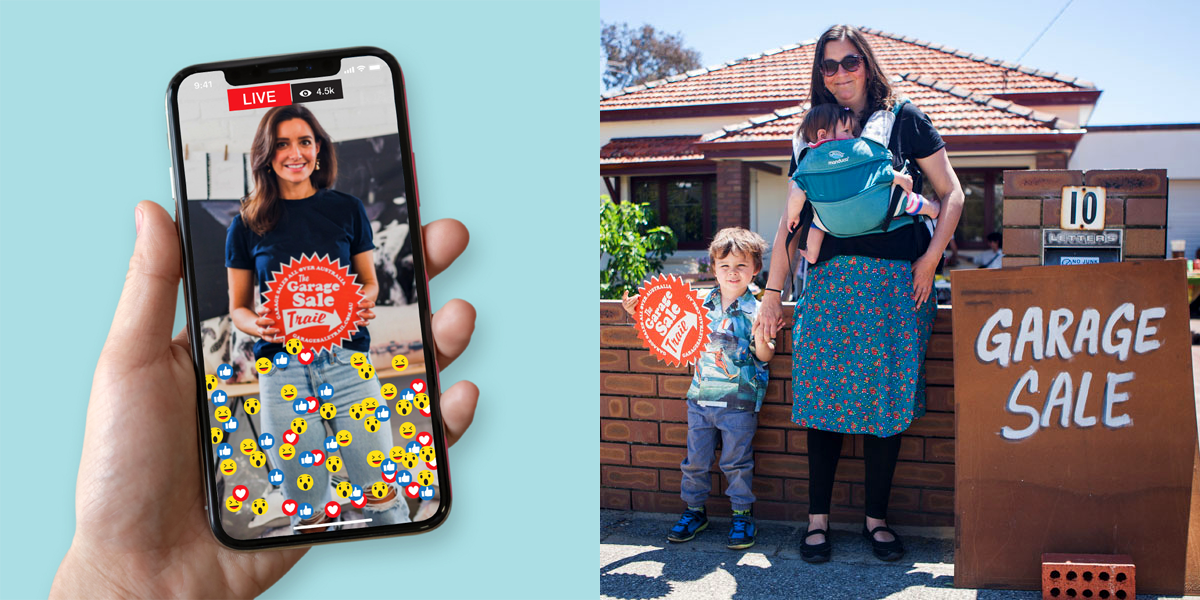 Garage Sale Trail is Australia's festival of pre-loved stuff with over 250,000 Australians hitting the Trail each year in the hunt for the perfect pre-loved bargain.
You can sell online or in your community over two big weekends of garage sales in November 2022.
And while you can host a garage sale any weekend of the year, there's a reason why being a part of the Garage Sale Trail makes things just a little more spesh.
🪄 Tips, tricks and free promo materials - once you've signed up you'll get a bunch of free promo materials, from posters to bunting, letterbox slips and more, as well as access to tips, tricks and support by email and from the garage sale community via Facebook support groups and more.
🧴 Ways to be involved that are covid-safe - register a virtual garage sale, or take part in your neighbourhood with a Covid-safe garage sale toolkit provided and touch-free QR code payments enabled by PayPal*. All provided when you sign up.
♻️ Make a bigger impact - being part of big national event means you're making some truly magical things happen. Like playing a part in saving over 1.5 million kgs of stuff from landfill and connecting over 250,000 Aussies.
✊🏽 Be part of a movement - there's something pretty cool about knowing you're part of a community of folk all simultaneously garage sale-ing and making a difference over two big weekends. Take a squiz at the hashtag to see what we mean.
Setting up your Garage Sale Trail listing takes less than five minutes, but a good garage sale will live on in the memories of your neighbours for like forever. So, in the immortal words of Nickelback, what are you waiting for?
Registrations open in September 2022. It's free and anyone can do it, whether you're a household, community group, a whole street, school or even a local business.