This year you don't even need a garage or heaps of stuff to be part of the Garage Sale Trail. You can take part online.
Fast forward to 12-13 & 19-20 November and there will be hundreds of people all across Australia hosting garage sales on the world wide web all at the same time.
Shoppers will search the Garage Sale Trail site to find online garage sales and can build a schedule of the ones they want to tune into over the two weekends. Basically it's a bit like Black Friday but for pre-loved treasure (and over four days).
Sellers choose an online platform to sell from - we recommend Poshmark - and link their online store to their Garage Sale Trail listing, taking advantage of the eyeballs that tune in to the Garage Sale Trail website in November. Read on to find out more or register a virtual garage sale.

Why get involved?
You'll be part of a community of over 300,000 Australians selling and shopping at over 10,000 garage sales nationwide.
We make it easier by providing tools and tips. Plus you'll get access to free promotional materials and we'll make sure you aren't going it alone.
You get:
Your own personalised sale listing on our website, providing you with a unique URL that you can then share to direct people to your sale.
Access to 400,000+ eyeballs thanks to a national media campaign and promotion by your council. This means more eyes on your sale and a wider net of shoppers looking for treasure to buy.
Free tips and support to make your sale a success - ranging from how-tos, garage sale success tips, downloadable promotional materials and more.
How can I host a virtual garage sale?
Option 1: Link your virtual garage sale to your Poshmark closet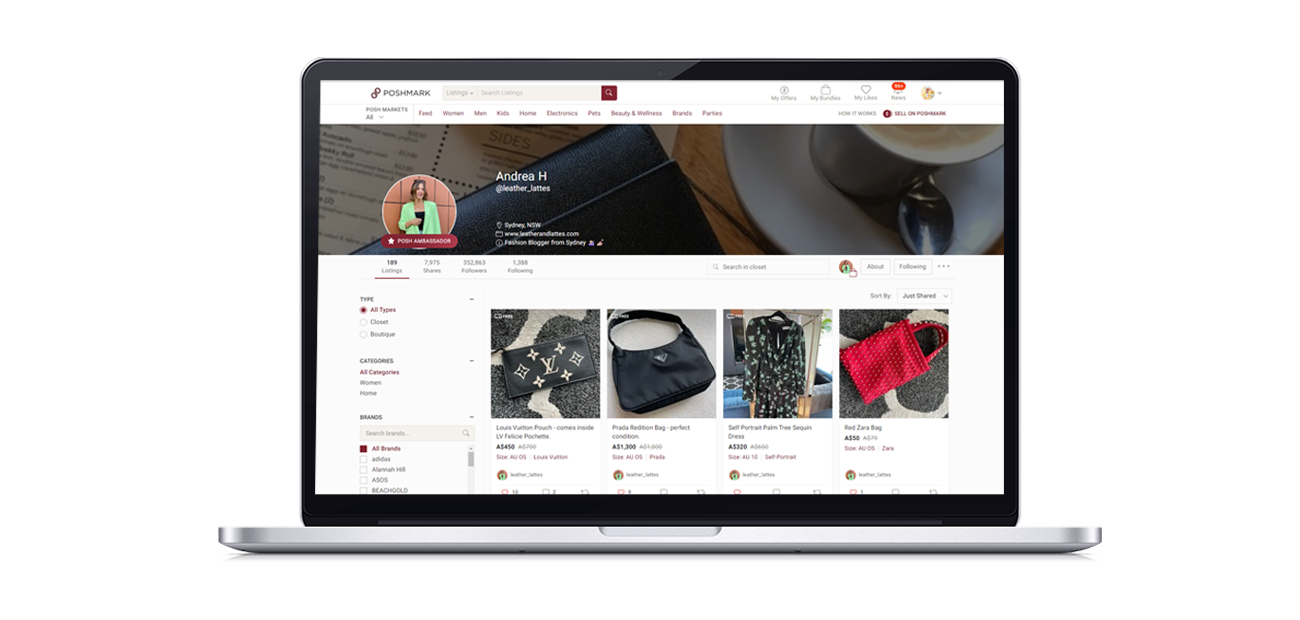 Poshmark makes buying and selling pre-loved fashion simple, social, and sustainable. It takes just 60 seconds to list an item and you'll be part of a passionate community of "Poshers" across Australia.
Poshmark handles the payment, you'll just need a PayPal account, and they even send you a prepaid, pre-addressed shipping label. They also provide lots of other free seller marketing tools to make it easy and fun to cash in on your items online.
Once you've set up your Poshmark closet, simply link it to your virtual garage listing on the Garage Sale Trail website and you're off and away.
If you're new to Poshmark, sign-up with referral code GARAGESALETRAIL to get $10 Posh Credit.
Ready to start online selling? Get started on Poshmark.

Option 2: live stream on your socials
Broadcast your garage sale live from home using Instagram, Facebook, TikTok or YouTube on 12-13 or 19-20 November. Think of it like your very own TV shopping channel, with you as the host.

Buyers slide into your DM's to purchase - this is made easier if you have a buddy in the house who can reply to messages and track which items sell in real time while you woo the audience on camera.

Get inspired by: @HawkeyeVintage



Option 3: host a sale in your social media feed
Post your items for sale in your social media feed (Instagram works best).

Photograph your items ahead of time and then upload them to your feed on sale day. To buy people then just scroll through your feed and comment 'sold' on the post purchase. First in best dressed.

Get inspired by: @Zazavintagestore
Ready to take the next step?
Setting up your virtual garage sale listing takes less than five minutes and you can update it at any time should things change. Register a virtual garage sale.