HOW TO HOST AN INSTAGRAM FEED SALE
The chances are you've seen an Instagram feed sale before, and they are popular for a reason:
It's a tried and true method of virtual selling
It's easy to prep ahead of time
It's a great visual method of selling
Garage Sale Trail is your chance to give it a go with two big weekends of virtual garage sales happening all across Australia in November 2022. If you think hosting a feed sale is the way to go for you, read on for our tips on how to make it work 👇
And if Instagram is not your thing, there's plenty of other ways to host a virtual sale. You can live stream your sale, sell in your Stories or avoid social media altogether and link your garage sale to an online store or marketplace.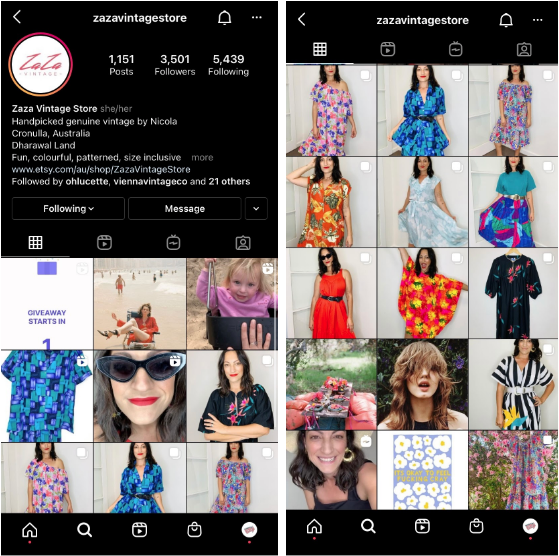 STEP 1 SET UP YOUR VIRTUAL GARAGE SALE LISTING
First things first. Head to our registration form and set up your virtual garage sale listing. Registrations open in September 2022. It's free and takes no more than five minutes. If things change, you can edit any of your sale details at any time simply by logging in to your Garage Sale Trail account.
Once signed up you get:


Access to a virtual garage sale success kit with heaps more tips and promotional materials

An invitation to join the virtual garage sale support group on Facebook

Your very own virtual garage sale page and URL to share with friends and family to get them involved

Added to the national listings page viewed over 2 million times over the Garage Sale Trail campaign



STEP 2 DECIDE WHAT TO SELL
Select a small number of high quality pieces that are easily shippable as you never know where people will be joining your sale from.

We recommend choosing 10-20 items. Fashion, accessories, small homewares and books work a treat. Make sure you give everything a good clean and have it looking its best.

STEP 3 PHOTOGRAPH YOUR ITEMS
Once you have all your items lined up, prepped and ready to go, it's time to take some photos.
Take photos from multiple angles, show any imperfections, and make sure the photos are well lit (natural light is a winner ✨). We suggest having a minimum of 3 photos of each item and posting them as a carousel.
Once taken, you can upload these pics to your Garage Sale Trail listing by logging in to your seller dashboard.
Read our blog for more tips on photographing your stuff.
STEP 4 GET ACROSS THE DETAIL
As much as good photos are going to really help sell your goods, you also need to get the details covered too. Prepare a brief description of the item, the size/measurements, price, condition and anything else special you think will sell it.
Use the template provided in your seller dashboard when you sign up👇 to help you get prepared and have it all ready to go before sale day for smooth saleing
(see what we did there?).
STEP 5 PROMOTE YOUR SALE
Telling your friends and family you're hosting a virtual garage sale is super important in the lead up to the event.
Share your virtual garage sale listing on social media and post sneak peeks of what you have for sale on your socials. You'll get access to some great story and feed templates to help you do this when you sign up.
STEP 6 DRAFT YOUR POSTS
One of the best things about having a Feed sale is that you can have all your listings drafted, saved and ready to go before sale day.
Upload your photos as a carousel, as if you were about to post. Add a brief description of the item, including size/measurements, price, condition and anything special that will help to sell the item. Once you've finished, press the arrow to go back, selecting save draft.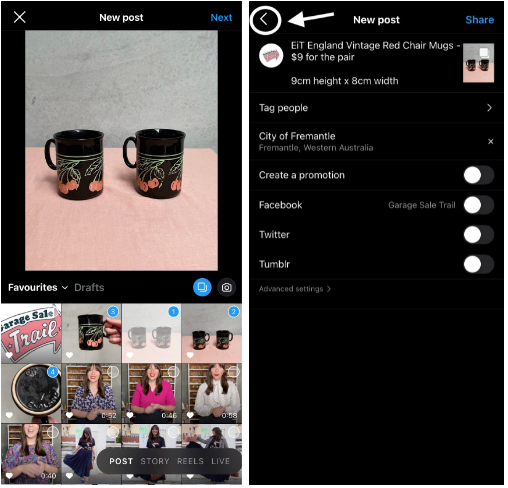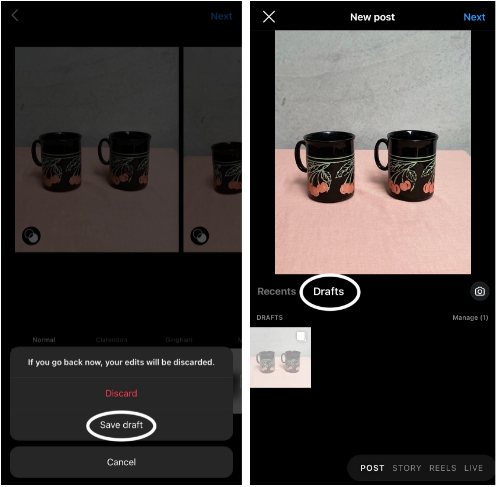 STEP 7 DECIDE HOW YOU'LL ARRANGE PAYMENTS & SHIPPING
It's really up to you how you decide to take payments and ship items to their new lucky owners but here's how we recommend you do it:
Ask shoppers to comment SOLD to buy an item and send you a DM to confirm.
Once you're chatting in your DM's, confirm how to make payment, and include the fee for shipping if required.
Once payment is received, confirm where it's being sent.
If payment isn't received within an agreed timeframe (we suggest one hour), simply repeat with the next person to post (known as the NIL or next in line).
PayPal can be used to take payment at your virtual garage sale. You can generate a unique PayPal.Me link and add it to your Garage Sale Trail listing.



For shipping, we recommend adding a standard, flat fee to all orders to cover your costs.
WHAT TO DO ON SALE DAY
✅ Share, share, share - Post on your socials a couple of hours before kick off to remind people to tune in.
✅ Go from public to private - If you're running your story sale on your personal page make sure you change your privacy settings from private to public so you can reach more people. On Instagram simply change your privacy status, and on Facebook you will have the option to make the stories public (use the settings button as you're uploading them).


✅ Post an explainer about shipping and payments - Make the terms of sale and shipping super clear for your followers up front with something like this 👇
✅ Post your drafts - Once you're ready and your sale is set to start, go through your draft listings and publish them. Then all that's left for you to do is wait for the sales to roll in.
✅ Get paid - As people start to comment "SOLD" follow up with a quick DM confirming the price (including shipping if needed) and how to pay. If payment isn't received within a set timeframe (even just an hour) contact the next in line and repeat!


✅ Ship it - Once payment is received, ship your items within a week.
NEED MORE INSPO?
For some killer inspo follow @zazavintagestore.