From Garage to Gallery with Annie from Flinders Nut House
From a GARAGE to a GALLERY, we asked Annie from Flinders Nut House and Mad House Beaumaris to talk us through her top 10 garage sale finds from over the years.
"The Garage Sale Trail is always a big event on our calendar, we mark it on in January! And we look forward to it more than Christmas. It's the best time of the year for us treasure hunters.
How do I possibly pick my top 10 garage sale finds, when there all literally hundreds and I love them all? After years and years of early starts on weekends and vigilant garage sale attendance by our family, nearly everything in our house in Beaumaris (@mad_house_beaumaris) & beach shack in Flinders (@flindersnuthouse) has been found at a garage sale. And we document our finds on @finders_hoarders."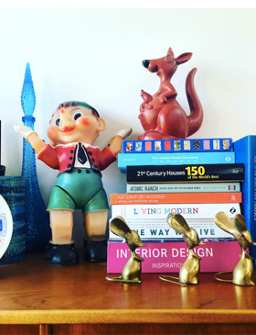 This incredible vintage Pinocchio rubber toy was a tiny $4. I saw him from a mile off and literally sprinted to grab him from amongst a mass of other things. I was the lucky one who got my mitts on him first and he's been happily living at our place ever since. I've been told by avid vintage toy collectors that he is worth a pretty penny, but I won't be parting with him.
The plastic kanga vintage money box was another fab find, from a different garage sale. He's by AW Allen Ltd, the makers of Allen's Lollies. I researched and discovered he's from the late 60's, early 70's and originally came with 1.5 pounds of toffees inside! There were other fab animals too – koalas and swans included. I would love to discover some more to him to keep him company.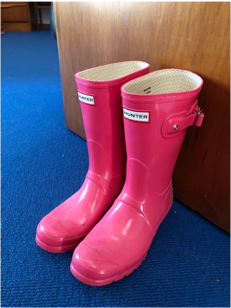 I've always fancied a pair of Hunter gumboots but I couldn't quite justify the $150+ pricetag for something I'll mainly wear in the garden. I went to a garage sale last year where a super stylish gal was selling half her wardrobe to go overseas. And by a stroke of luck, we were the same shoe size. I scored these beauties for $15 and she even threw in the lining socks free.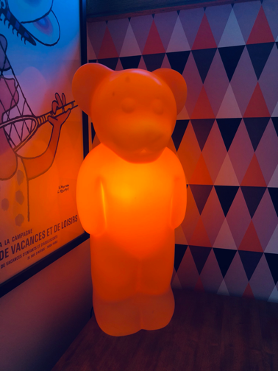 This orange 'Lumibar' German bear light was found at one of those sales where the homeowners are super strict with their opening time. They kept us behind a barricade until the clock ticked over to exactly 8am! I spotted him while patiently waiting and expected someone to beat me to him. I was right, but when the lady took a closer look, she saw that the plug was European & promptly put him back. I snapped him up for a cool $10 and later had the plug replaced. Winner winner!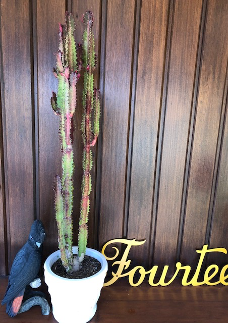 We find a lot of plants at garage sales. And they're usually a fraction of the price you'd pay at the nursery. I especially love finding unusual cactuses and this one was super striking with its dark red colouring. I think we paid about $20. We absolutely love it, and it takes pride of place on our front deck. The pot, the cocky and the house number were all from garage sales too!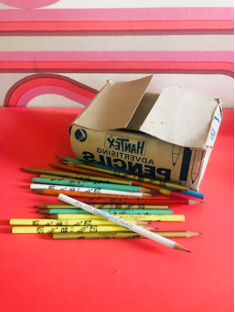 Working in advertising, I'm drawn to any branding/advertising memorabilia. This vintage box of 'Hantex' promotional pencils would have been printed as give-aways or maybe for employees to use? The Colgate Palmolive brands are printed on each pencil. I love that someone has saved them for all these years in the original packaging.
Image @nataliejeffcott
We got this beautiful vintage record player for $10. I couldn't believe it when I asked the price. The owners were downsizing and just wanted everything gone. They were also happy that it was going to a good home and would be loved. The only thing wrong was the belt which we replaced for $25. It's a total bargain and we use it all the time.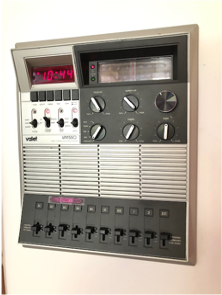 In the 70's and 80's, intercom systems were all the rage and growing up, we had one in our house. I loved the novelty of talking to people in other rooms. We stumbled across one last year at a garage sale – brand new and unopened. 'The Valet home communications system' now takes pride of place in our home. It was a bargain at $10 but the electricians bill to install it was a whoooole lot more.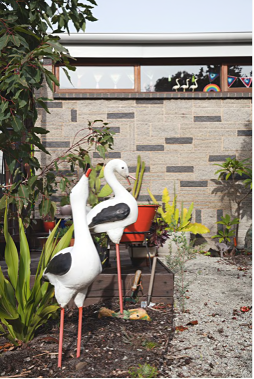 Image @nataliejeffcott
These vintage 1950's concrete storks (or are they seagulls?!) were a rare garage sale find. They are hard to find as a set because inevitably some get cracked and broken over time. We were lucky enough to score three, one had a broken neck but we performed life saving surgery with some Liquid Nails & filler. They take pride of place in our front garden and garner so many comments from passers-by.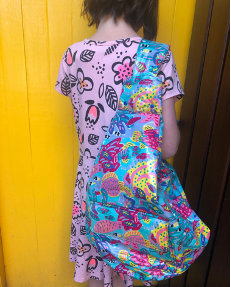 I'm completely obsessed with Ken Done. I have numerous scarves, place mats, prints and clothing, all sourced second hand. This amazing backpack is the jewel in the crown of my collection. It was straight from the eighties but had never been used. I couldn't believe my eyes when I spotted it amongst a huge pile of things at a local garage sale. I have barely used it myself as it's so precious, I don't want it.