7 sustainable fashion sheros to follow
Pre-loved, secondhand, pre-owned, vintage. Whatever you call it, buying pre-loved fashion is so hot right now.
A tidy 33 million people bought pre-loved clothes for the first time in 2020 and by 2030 secondhand fashion is expected to be 2X bigger than fast fashion (ThredUp).
Ready to dip your toe in? We've got you covered with a selection of our favourite nifty, thrifty and seriously stylish eco-fashion experts who'll get you ready to get your pre-loved fashion fix.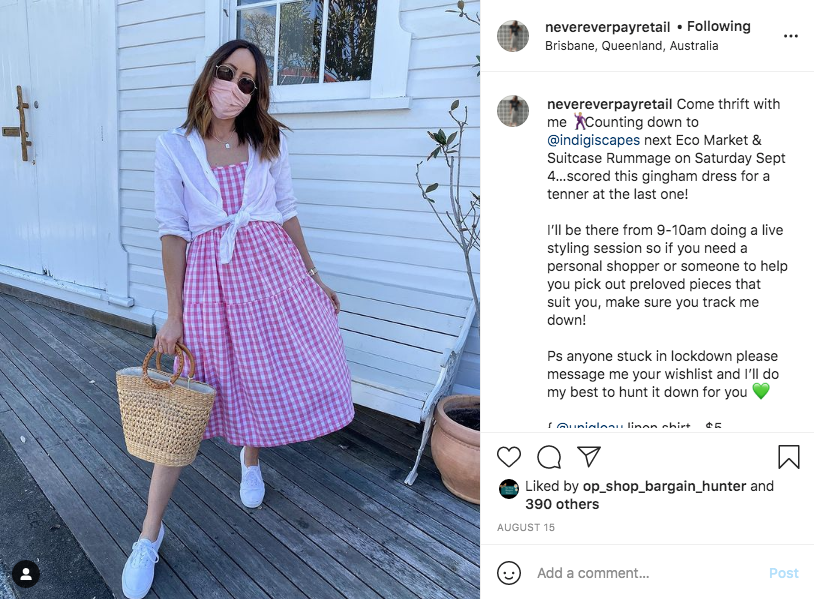 Never Ever Pay Retail aka Hannah Klose
With so many of her thrift shop finds under $20 Brissie based Hannah might just be the queen of thrift. We love her super practical and easy to achieve styling hacks that help you maximise your wears. Just like this killer video of how to wear a dress FOUR, yep four, different ways.
Pro tip - don't miss Hannah's website which has a beautifully curated map of not to be missed op shops and thrift stores Australia wide.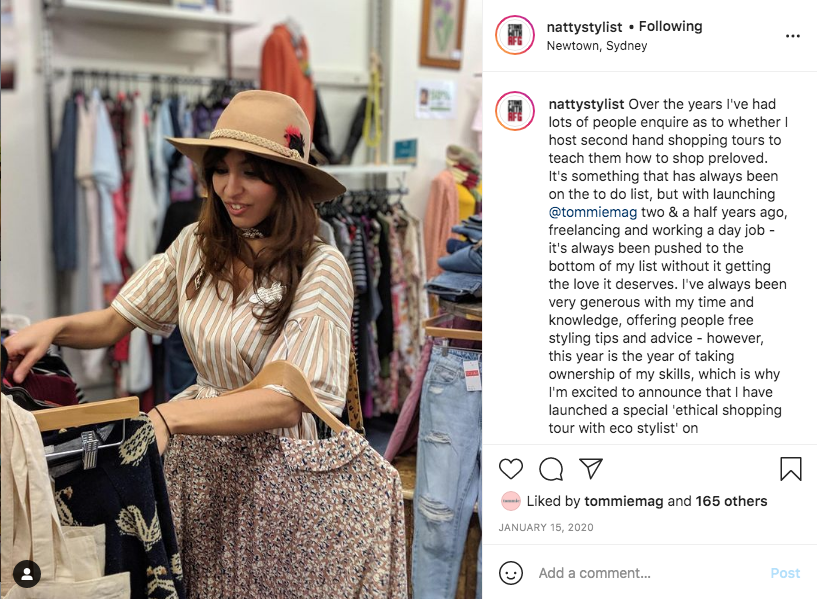 Natty Stylist aka Natalie Shehata
Love patterns but have no idea how to mix and match them? Natalie is a master in the magical art of the pattern clash and an all round sustainable fashion super human. Not only did Natalie launch Tommie Magazine, she's also Save the Children Australia's very own eco-stylist and a retail trainer for refugee youth at the awesome Sydney based sustainable fashion label The Social Outfit (we highly recommend you check them out too!)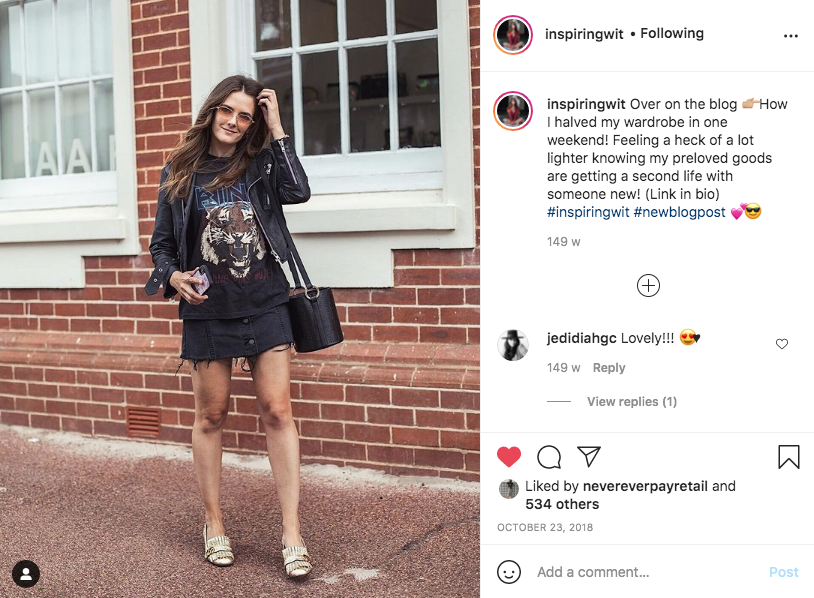 Inspiring Wit aka Jenelle Witty
Perth based fashion blogger and photographer Jenelle makes looking stylish seriously effortless. In 2018 Jenelle got involved in Garage Sale Trail and halved her wardrobe. It prompted her to rethink what she buys and changed her whole approach to fashion. Bookmark Jenelle for insanely good capsule wardrobe inspo as well as lifestyle, beauty and travel tips.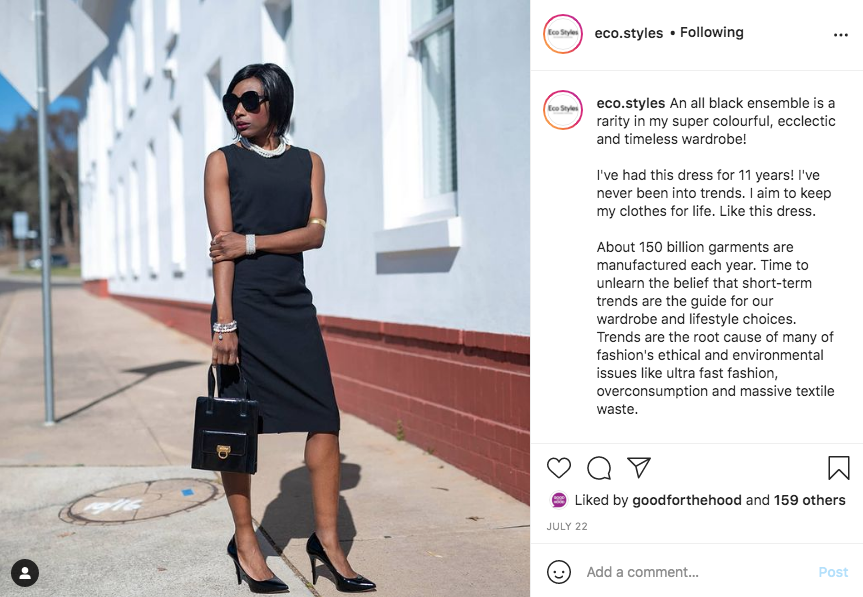 Eco Styles aka Nina Gbor
Pre-loved clothes make up 75% of Nina's wardrobe (the rest comes from ethical clothing brands). Colourful and eclectic, her style takes inspiration from the golden age of Hollywood. Think Audrey Hepburn in Breakfast at Tiffanys or an off duty Grace Kelly immaculately holidaying in the South of France. She's a seriously smart cookie too mixing fashion with climate activism, global female empowerment and international development. Way to go.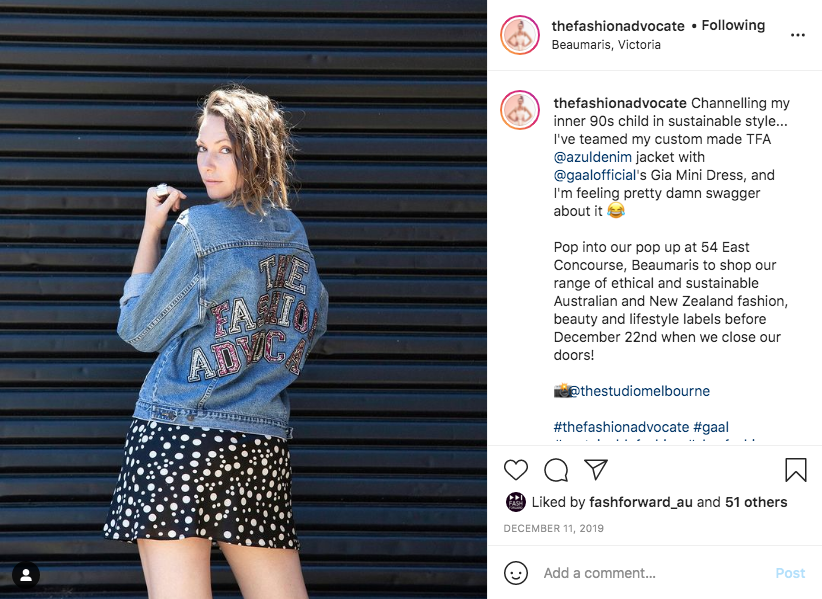 The Fashion Advocate aka Claire Goldworthy
Melbourne based Claire is not just a pre-loved fashion fan but also a wealth of information on sustainable living. Check her Insta for simple and impactful tips to help you reduce your fashion footprint as well as the skinny on all the latest and greatest sustainable fashion brands.
Hot tip - Bookmark Claire's website for the perfect selection of eco-friendly, locally made beauty, lifestyle and fashion gifts.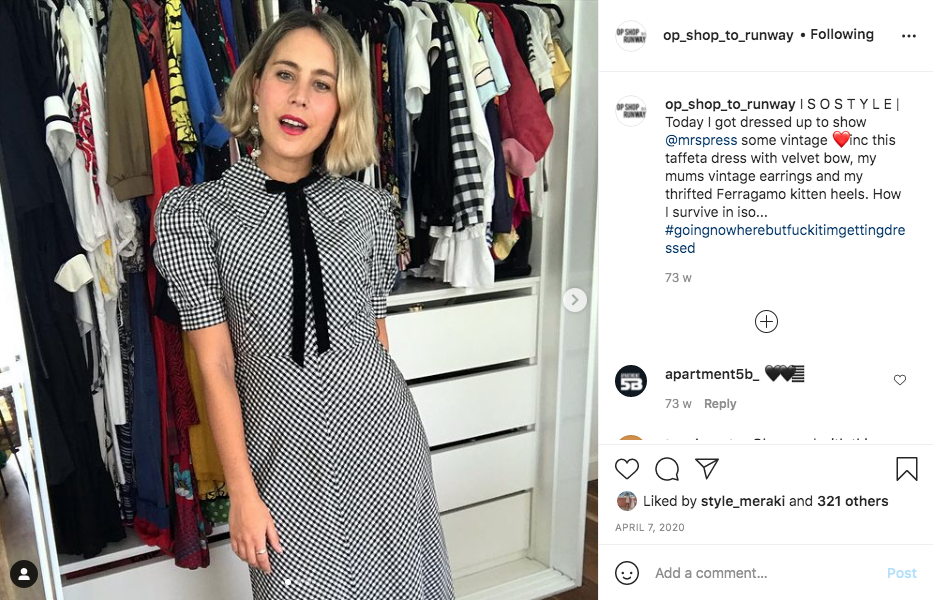 Op Shop to Runway aka Alex van Os
Sydney based Alex is a stylist and Red Cross ambassador who well and truly proves that secondhand ain't second best. Follow Alex for thrift shop finds that wouldn't look out of place on the runway, and whatever you do don't miss checking her IGTV styling tips too.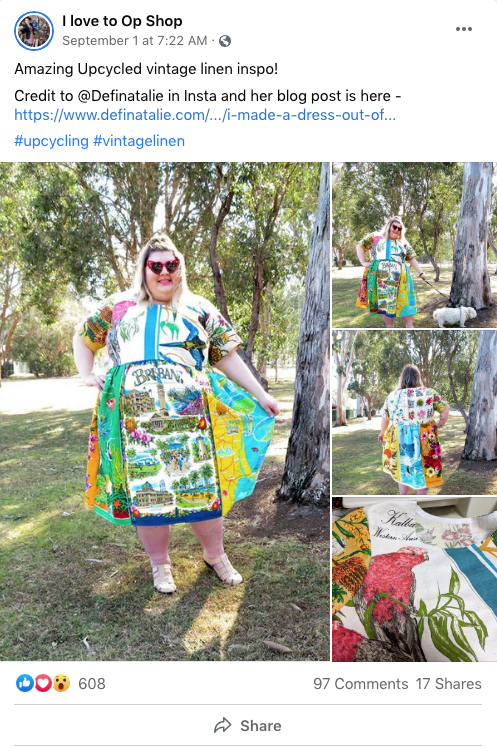 I Love to Op Shop
Ok, so it's not Instagram but we couldn't miss an opportunity to plug this amazing Facebook community of over 80,000 fellow thrift lovers Australia wide, all sharing their latest and greatest finds. Join today and thank us later.