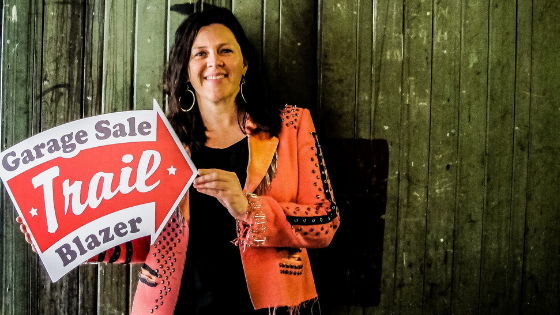 Fashion can be fabulous and sublime. It can be ridiculous and fickle. But who knew fashion could also be dangerous? Dangerous enough for a revolution? Melinda Tually thinks so...
A revolution is a turn around. A shift. A transition of power. So why are people all over the world talking about a Fashion Revolution? And what does it involve for us today in Oz?
Melinda Tually, Co-ordinator of Fashion Revolution Australia says since the 2013 Rana Plaza tragedy, fashion lovers have been calling for a change in the way our clothes are sourced, produced and consumed. Melinda explains she's involved because the "statistics are staggering" and are causing a global rethink, "We've doubled production in the last 20 years, we wear a third of our wardrobes, synthetics are now the most commonly used fibre and we cut down over 100,000 trees a year in the name of fashion." Ouch!
So with a considered approach to fashion production and consumption, Melinda and a team of local and international superstars or "pro-fashion protesters" are taking on the industry one outfit at a time. Creators of the #whomademyclothes campaign and Fashion Revolution Week (held in April each year) these guys are serious about positively disrupting the industry, to continue its transformation. Think of it like an Ethical Queer Eye makeover for the fashion industry itself. Yaass queens!
Mel herself is a massive fan of the cotton tee and denim jeans uniform (and always dreams of finding shoes in her size when she hits up op shops), but she's also happily shared with us some of the hottest trends she's seeing in fashion circles right now. Leaning forward with the weight of anticipation, we hear "The war on waste is big!" And Melinda attests, "Circular fashion and alternative textiles like pineapple and mushroom leather as well as lab grown bio materials like spider silk, are super exciting". Wow, its like we've been given the keys to the fashion City of the future, and it's so hot.
So for the fashionably challenged (or those of us who are just waking up to the revolution on our doorstep), what does Melinda say we should look for when buying clothes? She swears by picking up durable pieces and natural fabrics, trying before you buy and avoiding impulse shopping. Mel advocates "applying the #30wears test. If you think you'll get 30 wears out of it, buy it. If you think you'll get one, walk on by…"
Unsurprisingly as a Garage Sale Trailblazer Melinda is also a big advocate of reuse culture (thank goodness!). This is partly because as she explains "Pre-loved finds often have a great story to tell." Despit this, it isn't a fashion item which remains her favourite conversation piece. "My favourite find is an old copper citrus juice squeezer" which she recalls, "I eyed from across the street in the Blue Mountains. I was like an eagle to its prey, not taking my eyes off it the whole time I was walking towards it and swooped it up before anyone had a chance to take a second look."
So from innovative fabrics to the big shoes Melinda fills effortlessly, this stylish girl knows a thing or two about dress standards. But what about Garage Sale shopping standards? As a pro secondhand shopper, Mel, what are they? "Well it's all in the approach", Mel says, "Be a polite swooper. Never snatch! And know bargaining has its limits. If you have to haggle, be decent. That person could be making your coffee the next morning and no one wants to incur the wrath of a scorned barista." Touché Mel, Touché.
Psst, if you need something to read between Garage Sales this October, check out the 'Fashion, Environment, Change' zine. Mel says it's about as awesome as a Copper Juicer (and you can pick it up with much less work).